Since the Christmas season is coming up, your business might probably think of excellent merchandise as a gift for your employees. This merchandise could be printed shirts, sweaters, hoodies, or a combination of any customised prints on fabrics.

There are different types of fabric printing existing in the fabric printing industry. All kinds of clothes yield different results based on quality and durability. Results rely on the fabric and pattern that you desired for those products.

Buckle up as we unravel different types of printing in fabric and their advantages and disadvantages. With this, you can quickly decide which printing technique suits your company's style.
1. Screen Printing for Clothes
First on our list of fabric printing techniques is screen printing, which is rapidly making its name in the professional world of textile printing. Screen printing has three types:

Flat screen printing, which is best for shirts and bags.
Rotary screen printing, which is suitable for rolls of fabrics.
Hand-screen printing, which works for shirts or any homemade constructions.

The screen printing procedure is more likely to be applied individually, which is a challenging job for having a smooth tonal transition is tough, especially aiming for a two- or three-colour gradient.

Pros
➕Print lasts a long time
➕Cost-effective for mass production
➕High-quality and soft-to-touch finish
➕Ideal print technique for solid colour

Cons
➖Call for an ample space to print and dry
➖The printing process requires skilled workers
➖A low number of outputs is pretty expensive

2. Indirect Screen Printing
Next on our list is indirect screen printing which utilises plastisol ink. It uses a plastisol sheet with ink at first; then, it will need to be dried in a nice place to remove the peelable graphic film. The last step is squeezing the film with the wet wire to peel off the base, then blow drying it to maintain the screen print last longer.

Some designers collaborate with fabric printing shops that can mass produce the design on plastisol sheets to narrow down the cost. Furthermore, fabrics with 50% polyester and 50% cotton perform more promising with plastisol ink.
Pros:
➕A lesser amount of mess
➕High-quality and durable design
➕Suitable for small amounts of order
➕Less amount of time rather than regular screen printing
Cons:
➖Applying plastisol is tricky
➖The plastisol transfer sheet is costly
➖The design might crack soon if done incorrectly

3. DTG Printing
Another type of T-shirt printing is DTG, direct-to-garment, or direct-to-fabric printing. This new fabric printing process uses a large flatbed printer with a conveyor belt to transfer the print on the T-shirt. The best thing about DTG printing is that you can easily print any complex design with various colours, even a photo, on the fabric of your choice.
Other than that, the print on the shirt is much softer; you won't even feel any stiff or bulky pattern somewhere on your shirt. DTG is perfect for T-shirts, sweatshirts, polo shirts, and bags.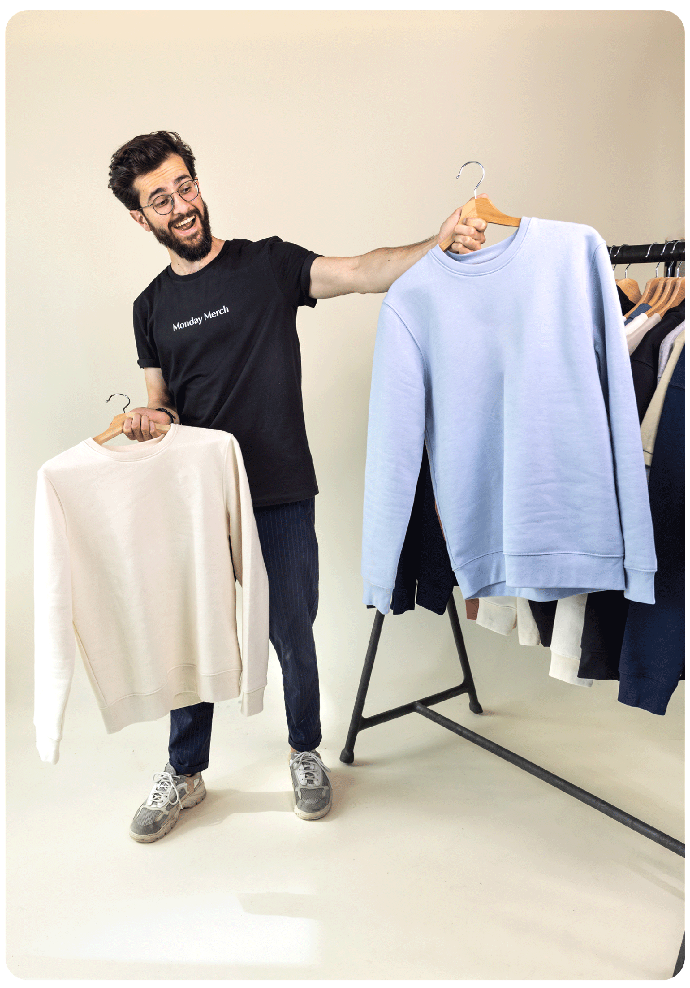 Pros:
➕Good for bulk orders
➕Good for customising products
➕Less costly in terms of printing
➕Works with any dark colour fabrics
➕Perfect for full-colour and complex designs
➕Good investment for a fabric printing business
Cons: 
➖Expensive set-up
➖Ink is pretty expensive
➖Installation requires a lot of space
➖Requires a significant amount for a down payment
4. Dye Sublimation Printing
A different fabric printing method is dye sublimation printing on fabric. Sublimation printing works best on polyester materials and blends only because fabric with natural fibres like cotton doesn't work with gas. This fabric printing method requires the printer to heat the ink, making it sublimate and creating a unique, breathable, satiny print on the polyester material.

What's the catch? A dye sublimation print on polyester or blend material doesn't crack or peel, making the garment last longer.
Pros:
➕Waterproof
➕Comfortable print
➕Good for bulk orders
➕Works with full-colour designs
➕Ink is long-lasting and does not wash off nor peel off
Cons: 
➖Labour intensive
➖Ink is expensive
➖Requires a lot of commercial equipment
➖It does not work with other kinds of fabric
➖The process took so long than another inkjet printer
5. Heat Transfer Printing
Heat transfer printing, also known as thermal printing, works in several ways making it more accessible and fun to use. This printing process allows you to print on a project using wax-based ink to the printer to transfer print from one surface to the fabric material. While the ink melts on the garment of your choice, it creates a smooth, durable, and waterproof image making it more in demand by the public.
Heat transfer print works with fabrics like cotton, polyester, and cotton/poly blends. Remember, do not use synthetic materials since they can melt under iron heat.
Pros:
➕Design can be easily transferred to the garment
➕Durable, smooth, and waterproof print on the chosen garment.
➕Cost-effective, easy, and quick setup
➕Supports full-colour printing
➕Earn twice the money you invested
Cons:
➖Sometimes can look unprofessional
➖Prints can be torn or break if not transferred carefully
➖Demands too much electricity
➖Quite look unprofessional
6. Stamp Printing
Whether you believe it or not, stamp printing is another pleasant way to make a print on fabric. The best thing about it is you can print any pattern with your choice of colour. Given that wonderful fact, stamp printing is quite labour-intensive because it demands too much labour due to its repetitive and accurate printing of the material.

Along with read-made stamps and ink, you can now have clothes with print. Moreover, any fabric can be used but make sure that it doesn't have unique surfaces to keep the print consistent.
Pros:
➕The printing method is easy and accessible for everyone
➕It does not require expensive items
➕There is no standard size in terms of the print
➕Craftsmanship is highly recognized in this printing method
Cons:
➖Labour intensive
➖Slow and low output is expected
➖It requires a hand of a real craftsman when it comes to colour combination and repetitive stamping
➖Delicate and refined designs are hard to produce nicely
7. Stencilling Printing
Stencilling printing is known for being one of the oldest types of fabric printing. The design on the flat or waterproof sheet and cut out one by one using a sharp-pointed craft knife. The process does not involve printing but is applied by brushing or spraying the ink on the pattern cut out from a waterproof paper, laminated sheet, or flat sheet.

If you are new to stencilling printing, any fabric will do, but most shops work with natural fibres such as cotton, hemp, linens, and silk. Another fun fact is that fabric paint is much better than acrylic because it leaves a non-crispy and soft finish on the fabric of your choice.


➕Graded colours and shades can be obtained
➕You can use different colours on different parts
➕Stencilling printing does require expensive equipment
➕Everyone can do stencil printing in the comfort of their home
​
 ➖Manual work means labour intensive
➖Metal sheet for stencilling printing is costly
➖If the design is made on the wrong sheet, then expect inconsistent lines and strategy.
➖Not suitable for large-scale production, especially if you have a limited number of employees.


8. Discharge Printing
Discharge printing uses water-based inks to bleach the preferred design on the shirt and replace it with the dye you choose. The bleach will not sit on the top of the fabric but will be soaked to keep the design as lively as it should be. This type of printing on clothes works with black, grey, or any darker colour fabrics.

The best material to work with discharge is 100% natural fabric, cotton, and hemp. A tri-blend or shirts with 50% natural fibres and 50% synthetic do as well. Do not attempt to do it on polyester because the design will only bleed and leave nothing but a big mess on the shirt.
Pros:
➕Print is lightweight
➕No cracks and peeling
➕Design is much softer to look and feel
➕Vibrant colours can be seen on custom design
Cons:
➖Accurate colours are quite tricky
➖Water-based inks are pricey
➖Works with natural fibre or 50/50 fabric
➖Fabric must be in a dark colour
9. Vinyl Printing on Clothes
One astounding and popular type of printing is vinyl printing which needs a heat transfer machine to make the design print stick on the clothes. Designs, patterns, and letters are cut out from pieces of colored vinyl. This specific technique also has hardware and software to grow your business, though it is also open with humble beginnings.

If you are considering vinyl, the best material is cotton, polyester, or a combination of the two.
Pros:
➕Set up is low cost
➕High-quality colour print
➕Works with different garments
➕Complicated designs are achievable
➕Good start and option for fabric printing business
Cons:
➖Labour intensive, especially if the order is in bulk
➖Colours depend on the vinyl stock that you have
➖Care is essential in washing the garments 
10. Pigment Printing on Fabric
Pigment printing is one of the fundamental elements of the textile industry. As you have read, it is all about pigment, meaning dye is vital throughout the process for clothes and other fabrics.

In terms of fabric, the most predominant is cotton though it does not exclude other materials such as polyester, Tencel, and lyocell. Still, pigment printing was a known method for cellulose fibre. The only exception is leathery or waterproof fabrics because they do not absorb the ink's pigment very well. 
Pros:
➕High-quality print
➕Good for bulk orders
➕Less expensive, unlike other printing processes
➕Very affordable and achievable printing technique
Cons:
➖The pigment is not controllable.
➖Rollers are affected during the process due to several pigment printing.
➖Error in the first printing phase can affect the second phase, which will affect the pigmentation of the fabric.
➖Solvent has its impact, such as odour and flammability.


Types of Clothes Printing that Monday Merch Uses
At Monday Merch, we choose DTF or Direct To Fabric Printing due to its quality. It is long-lasting and cost-effective, and prints look attractive and versatile. Apart from that, it also works like magic with several fabrics such as polyester, silk, cotton, or any synthetic fibres like terry cloth and rayon.
Our team put much effort into printing beyond what the customer wants and needs. All items throughout the process undergo great attention to detail to keep everything neat, accurate, and in excellent order. We believe that every merchandise package should represent your organisation's culture and virtues. Thus, it should be something your employee is proud of wearing or bringing off.
What is the Best Type of Printing for T-shirts?
There are several options for T-shirt printing, and all of them have their fair share of advantages and disadvantages. The best method might depend on your budget, the design complexity, the colours, and the fabric you will use. Fabric printing techniques are pretty versatile and might work according to your offer.