Helping Datacation With Sports Packs! 

We filmed a Success Story Video at Datacation where Ralf Zoetekouw, founder, explains how Monday Merch made it easy to create sports onboarding packs for their employees. 

Two years ago Ralf started Dataction. Datacation is a data science consultancy firm located at The High Tech Campus in Eindhoven and at the Vrije Universiteit in Amsterdam.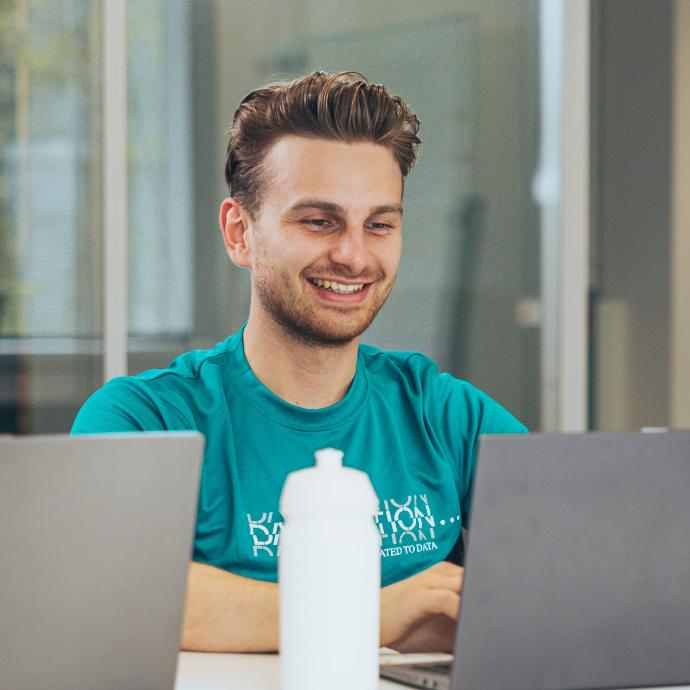 Ralf Zoetekouw
Founder,
Datacation

''What I like most about working with Monday Merch is that they take all the hassle of finding high quality merch away. I have one single point of contact and one place where I can find and order all the merch I need.''
Datacation provides four services to assist companies with their data needs. The first service involves collaborating with the company to develop a strategic plan for tackling their data challenges. The second service is focused on data engineering, which involves the merging and secure storage of various data sources within a data warehouse or lake. The third service offered is the creation of visually engaging dashboards. Lastly, Datacation specializes in implementing AI and machine learning solutions for their clients.
FOUNDER RALF ZOETEKOUW ABOUT MONDAY MERCH
''I was searching for merch and I wanted to find one partner who could deliver on time. When I saw the website of Monday Merch there were a lot of different products that they provided in one place, that was really important for me. Also the products are from high quality, so that made Monday Merch the perfect partner for me.

What I like most about working with Monday Merch is that I have one single point of contact. They deliver to both of our locations and they can always deliver on time whenever we have a new employee starting.
Every new employee gets a starter kit mainly based on sports merch. At the first working day we have a box ready on their desk and everyone gets excited. We have a young team and before we go to work we all go to the gym together. I wanted to have one team in the gym as well, that's why I choose bidons, towels, sweaters, sports shirts, sport shorts, all the items you need for the gym.''